Collective Dream Weavers
Curated by Erika Sprey
On the first day of this conference festival, we reclaim our dream space as a legitimate and transformative form of knowledge (saber) and a life and death necessity. Can our bodyminds, so permeated by colony and capital, still be 'touched by the gods' in what is probably one of our last inner refuges: the dream? How can we become more sensitive to how our most intimate, collective and even planetary matters of care are revealed through them? This programme is also part of a longer inquiry into how dreams can be a way of communicating with the more-than-human world that also knows how to dream. Please be welcome to listen in and weave a dream craft together with our very dreamy guests.
Finding refuge and protection around fire, humans started to sleep deeper and dreaming took flight. As neuroscientist and dream expert Sidarta Ribeiro conjectures, sleep felt in the (pre)neolithical like a 'little death', a loss of consciousness that could conjure images of dead people and fantastical beings. It is not surprising, then, that dreams came to be revered as interfaces between life and death, humans and spirits: portals, through which one could receive divine and fateful guidance, healing and prophecy.
Today in the Western world dreams are mostly treated as the night-time residue of a day-time reality, simulacra generated by random activation of neurons in the cerebral cortex. Moreover, living under the grind of late capitalism, our dream space is captured and clogged by an unrelenting attention economy that fills our bodyminds with stress hormones, constant distractions and commodified desires disguised as 'dreams'. Especially those living in poverty and oppression continue to be disowned for their right to rest and dream by a (neo)colonial capitalism devaluing dreams to 'just dreams'. They must remain illogical, meaningless and therefore useless, because they can open the door to a potentially disruptive radical imagination. We, the productive workforce and captured consumers, shall not rest and (day-)dream too much, or else we may start to believe that another, more enchanted world is possible.
With: Tricia Hersey (The Nap Ministry), Camille Barton, Daniel Godínez Nivón, Mala Kline, Marcos Lutyens and Viktorija Rybakova, Laryssa Kim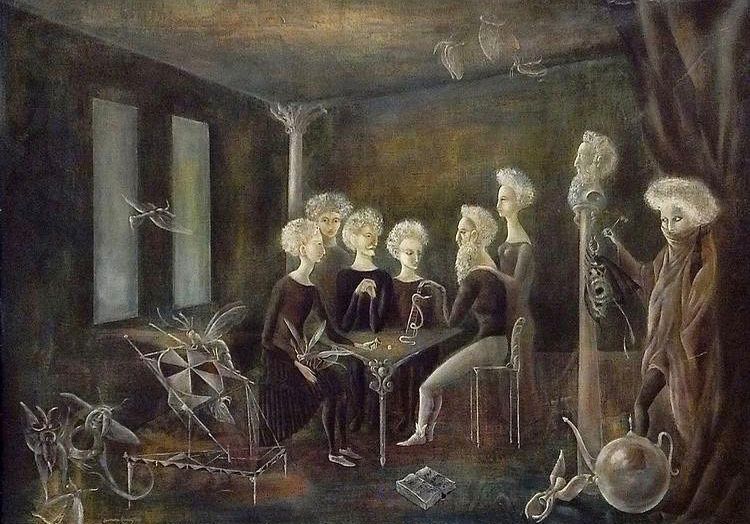 11:00
Welcome
Karen Archey,
Stedelijk Museum Amsterdam; Maaike Lauwaert,
Gerrit Rietveld Academie; Jorinde Seijdel,
Studium Generale Rietveld Academie
Karen Archey is Curator of Contemporary Art at Stedelijk Museum Amsterdam; Maaike Lauwaert is Chair of the Executive Board of the Gerrit Rietveld Academie; Jorinde Seijdel is Head Studium Generale Rietveld Academie
11:15
Collective Dream Weavers
Erika Sprey
Introduction to Collective Dream Weavers by guest curator Erika Sprey
Erika Sprey is a Dutch-Mexican educator, curator and artistic researcher. Recently, she (co)curated Conjurings at the Center of Art Research and Alliances (CARA) in NYC. As curator-in-chief of the Studium Generale program of The Royal Academy of the Arts in The Hague, Erika curates educational programmes such as Wxtch Craft (Reclaiming the Wxtch, The Poisons, the Remedies, Your Name is Medicine over my Kin and (Tr)ancestral body wisdom for a more-than-human Sex Magick) and Earth Craft (The Word for World is Soil and Kindred Soils) that aim to reclaim suppressed knowledges such as witchcraft, queer feminist liberatory practice, soil care and collective dreaming. 
11:30
REST IS RESISTANCE: We can dream ourselves free!
Tricia Hersey / The Nap Ministry,
Camille Barton
To open the event we are blessed with the presence of Tricia Hersey, also known as the Nap Bishop. Tricia is an artist, chaplain, community organizer and founder of The Nap Ministry. The rest movement which Tricia's work has pioneered, is focused on supporting people to divest from grind culture and embrace the liberatory power of rest. Another focus is helping people to regain access to DreamSpace as a means to grow futures beyond extractive capitalism. Tricia will be offering a close reading from her critically acclaimed book, Rest is Resistance: A Manifesto. Following this, there will be a short interview with Camille Sapara Barton and a Q & A.
Rest is Resistance: A Manifesto is available to purchase from the Stedelijk Bookshop as well as bookshop San Serriffe.
N.B. Covid safety: We strongly recommend you to wear a mask during this session and there will be no signing sessions afterwards. 
Tricia Hersey (she/her) is a multidisciplinary artist, writer, theologian and community organizer. She is the founder of The Nap Ministry, an organization that examines rest as a form of resistance and reparations by curating spaces for the community to rest via community rest activations, immersive workshops,  performance art installations, and social media.  Her research interests include Black liberation theology, womanism, somatics, and cultural trauma.  She is the author of the New York Times bestselling book Rest is Resistance: A Manifesto. You can learn more about her work  at thenapministry.com
Camille Sapara Barton is a Social Imagineer who operates as a catalyst for social change, dedicated to creating networks of care and liveable futures. They work as an artist, facilitator, consultant and curator across the realms of embodied social justice, grief, pleasure and drug policy. Rooted in Black feminism, ecology and harm reduction, Camille uses creativity, alongside embodied practices, to create culture change in fields ranging from psychedelic assisted therapy to arts education. They are certified in the Resilience Toolkit - an embodiment framework to navigate stress, increase resilience and grow our collective capacity to change the conditions that create systemic harm. In 2022, Camille launched the GEN Grief Toolkit - a collection of embodied grief rituals to support personal and community grief work. They are currently based in Amsterdam, working as the Director of Ecologies of Transformation, a temporary masters programme at Sandberg Institute (Amsterdam), that researches how art making and embodiment can create social change.
13:30
Rasum A'núuj a, an Oneiric Assembly, artist talk
Daniel Godínez Nivón
Triqui midwives from San Juan Copala in Mexico learn midwifery in dreams. In this space, their future practice is revealed at a very young age. When the midwives share dreams, they express a collective work, a practice that guides life, and an ability to relate to time beyond the material world. Daniel will share his experience working alongside triqui midwives, women who relate to dreams as a learning and healing tool. With the use of tequio and dreaming assemblies, they are deepening their understanding of the environmental destruction to imagine possible futures to confront climate collapse.
Daniel Godínez Nivón (he/him) is a Mexican artist whose practice is linked to processes of social participation related to collective knowledge and education. One of the fundamental tools of his practice is 'tequio', a traditional system of work which consists of a communal, collaborative and compulsory work system. He studied at the Multiple Media Seminar in Arts and Design at UNAM, Mexico, then undertook a residency at Jan van Eyck Academie (2021-2022) In 2022 he received the Prince Claus Mentorship Award from the Prince Claus Fund & Goethe-Institut and represented Mexico in the 23rd International Exhibition of the Milano Triennale and won 2nd best Pavilion.
14:15
Dream-Crafting, workshop
Mala Kline
In this short session we will look at how we have lost the sense of connection with the self, the world, and divine intelligence that flows through it all. We will use imagery, a form of waking dreaming, to find out what it is that we have lost and how we can restore the Garden of Eden, within ourselves and also on the outside. If we align on the inside the world around us will align too as it is only a mirror image of our inside.
Mala Kline is a performer, choreographer and writer. She holds an MA in Theatre and PhD in Philosophy. She is a certified practitioner of Saphire® dreaming techniques and senior teacher at the School of Images. Her artistic and theoretical work is embedded in the Saphire® practice of dreaming. In 2018, she founded ELIAS 2069 institute – a school, an art residency space, an ecological farm and a healing resort, located in a pristine natural resort deep in the wilderness of southern Slovenia and dedicated to education and creation through dreaming.
15:45
Spaghetti and Sun Visions, presentation and hypnosis session
Marcos Lutyens and Viktorija Rybakova
Spaghetti and sun visions is an epistolary conversation about and through dreams between artist Marcos Lutyens and artist Viktorija Rybakova. How can dreaming become a form of knowledge making? The artists thought of a way to expand the mind and evoke divergent thinking through colours, shapes, associations, symbols. In agreement that life is constantly semiotic and that it is us "the messengers and receivers" who create new symbols, the artists questioned what kind of symbols and meanings haunt our dreams today? Can active exchange of symbols generate a new cosmology seen through dreams, felt through book makings and told through the eyes? This hour-long presentation and hypnosis will invite participants to connect "eyes" and weave the symbologies together.
Viktorija Rybakova (she/her) is a research based artist and designer, working extensively within artist's book medium. In her artistic investigations she applies (auto)ethnographic methods and often co-creates with other thinkers and makers. Currently, she is exploring the ways the artist's book can translate feelings and make space for affective knowledge. She is a PhD student at LUCA School of Arts and a former fellow at the Jan Van Eyck Academie. In 2018/20 she co-created with graphic designer G. Budvytyte under the name laumes. laumes published their artistic research "El Plastico, the Sun that lives inside the Rock" (2020, Bom Dia Books) and created temporary graphic identities for Kunstenfestivaldesarts and Kunstinstituut Melly. Viktorija exhibited internationally and was awarded the Grand Prix in Tallinn Print Triennial in 2013.
Marcos Lutyens (he/him) artistic practice targets the psychic and emotional well-being of his audiences by skillfully leading participants in hypnotic exercises that affect the deepest levels of their psyche. His works take form in installations, sculptures, drawings, short films, writings, and performances. In his explorations of consciousness, Lutyens has collaborated with celebrated neuro-scientists V. Ramachandran and Richard Cytowic, as much as studying under shamans from different cultures, as well as self-evolved practices to do with lucid dreaming and synesthetic and paroptic sensing. From these investigations and research, he has worked with visitors´ unconscious states in museums, galleries, and biennales around the world.  For him, the realms of dreaming and the unconscious are often more concrete than experiences of the waking world.  
16:45
Submarine Thoughts, closure with music
Laryssa Kim
Originally created in 2015 and extended in 2021 for a theater piece called 'The One et Demie Man Show' (Salim Haouach), Submarine Thoughts is a 21 minutes vessel journey, a submarine that from the surface of the waters brings us to mysterious depths. There, underthreshold, the feverish activity of the psyche reveals its most precious, creative elements and symbols.
In the hypnagogic state new thoughts associations are possible that wouldn't be possible in the complete awake state. Half asleep we get access to the Subconscious, where the borders of reality and rationality become fleeting. And when we're back hopefully, we'll bring some of those ideas and visions with us.
Chapters :
00:00 - Diving Bell
02:33 - Hydroplaning
03:55 - Active Sonar
05:30 - Passive Sonar
07:09 - Challenger Deep
08:06 - Rapid Eye Movement
10:12 - Subworld
12:57 - Underwater Vision
14:33 - Gyroscope
16:19 - Sunken Treasure
17:31 - Positive Buoyancy 
credits:
released November 18, 2022
Performed, Recorded & Mixed by Laryssa Kim
https://citytracks.bandcamp.com/album/submarine-thoughts
https://open.spotify.com/artist/434y5me2v98eNrq4BFiJxa

Laryssa Kim (she/her) is an Italo-Congolese singer and composer with an arresting set of influences based in Brussels since 2013. Laryssa completed a master's program at the Royal Conservatory of Mons in acousmatic music composition, after writing and performing with reggae musicians and DJs in Rome and immersing herself in contemporary dance and physical theater in Amsterdam.  Amid all these studies she took the natural step of establishing her own artistic project to develop an intimate, personalized route through her rich experience of music's different mechanisms and models. In parallel with her solo project, she is active as a composer, also for dance, theater and video, with upcoming commissions for productions with KVS, Viernulvier (ex Vooruit), Kaaitheater, deSingel en Detheatermaker.